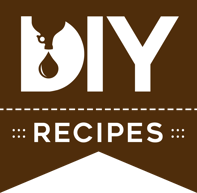 It's almost spring and with it, comes spring cleaning…and maybe hay fever. If you're ready to open the windows and shake off the winter fuzzies, we have 3 super simple cleaners you can restock your cleaning cabinets with.
Spring cleaning dates back 3000 years. Some cultures believe that cleaning the house at the end of winter can bring about good fortune for the upcoming year. We are familiar with historical images of folks beating rugs and washing windows as soon as the weather begins to warm. Whether it's for good luck or peace of mind, it still is a personal ritual in which many of us partake.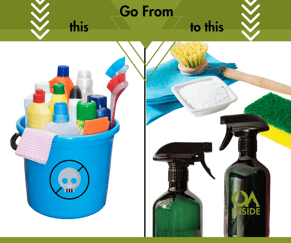 At OAC, we strive to remove extraneous chemicals from our daily lives as much as possible. There are a few tried and true alcohol-based natural cleaners we use for just about everything. With a few base ingredients and a little know-how, you can dive into your spring cleaning and leave the harmful chemicals behind.
I used reusable high-quality glass spray bottles as I find they last longer. If you up-cycle old spray bottles, make sure they are thoroughly cleaned before you add in your new cleaner mix!
For these natural cleaners, I used Organic Cane Alcohol. This month only, you can purchase a 1-Gallon Cube of Organic Cane for an additional 15% off. With its attached spout and stackable container, the cube is perfect to keep in your cleaning cabinet and refill bottles as needed!
Our first is Glass Cleaner. If you're like me, streaky glass and mirrored surfaces can be a bother. Skip the Windex and make a very easy 50/50 glass cleaner with white distilled vinegar and our organic spirits. A little goes a long way and the vinegar smell dissipates quickly.


The next is an All Purpose Cleaner that is a go-to in my home. OAC has featured our alcohol in disinfectant sprays that keep germs at bay, but if you are looking for a general surface cleaner, this formula is great. A simple mix of 3 to 1 water to organic spirits, a little dishwashing soap, and essential oils are all this recipe needs! The best part is you can add whatever oils suit you best and make your home smell wonderful. Be mindful of using alcohol-based cleaners on any varnished or stained surfaces.


The last is mostly for getting ink or oil-based stains like grass, lipstick, and grease out of fabrics. Be careful to spot test cleaner on your material as alcohol CAN fade or damage more delicate fabrics like acetate, rayon, wool, or silk, or fabrics with vivid colors. This is best for sturdy fabrics of a lighter tone. Let sit without agitating or rubbing too much and toss in the wash!


WHAT YOU'LL NEED

Glass Cleaner: 1 cup Organic Alcohol, 1 cup Organic Distilled White Vinegar, 16 oz glass spray bottle


All Purpose Cleaner: 1 Cup Water, 1/2 cup Organic Alcohol, 1 tsp. eco-friendly dishwashing liquid, organic essential oils (I used eucalyptus and sweet orange, but lemon or tea tree are great options too), 16 oz glass spray bottle


Stain Remover: 1 cup Organic Alcohol, 3 tablespoons organic distilled white vinegar, 10-12 oz glass bottle for storing


WHAT YOU'LL DO
In clean glass bottles, mix your ingredients as above listed
Label bottles clearly with permanent markers and waterproof labels
Store out of direct sunlight
Enjoy your new DIY natural cleaners!
Need Alcohol? Organic Cane Cubes are 15% off NOW!
DON'T FEEL LIKE MAKING YOUR OWN?
If you aren't keen to make your own, here is an updated list from The Grove with some great options for a clean house and fewer chemicals.