ESSENTIAL OIL CLEANING SPRAY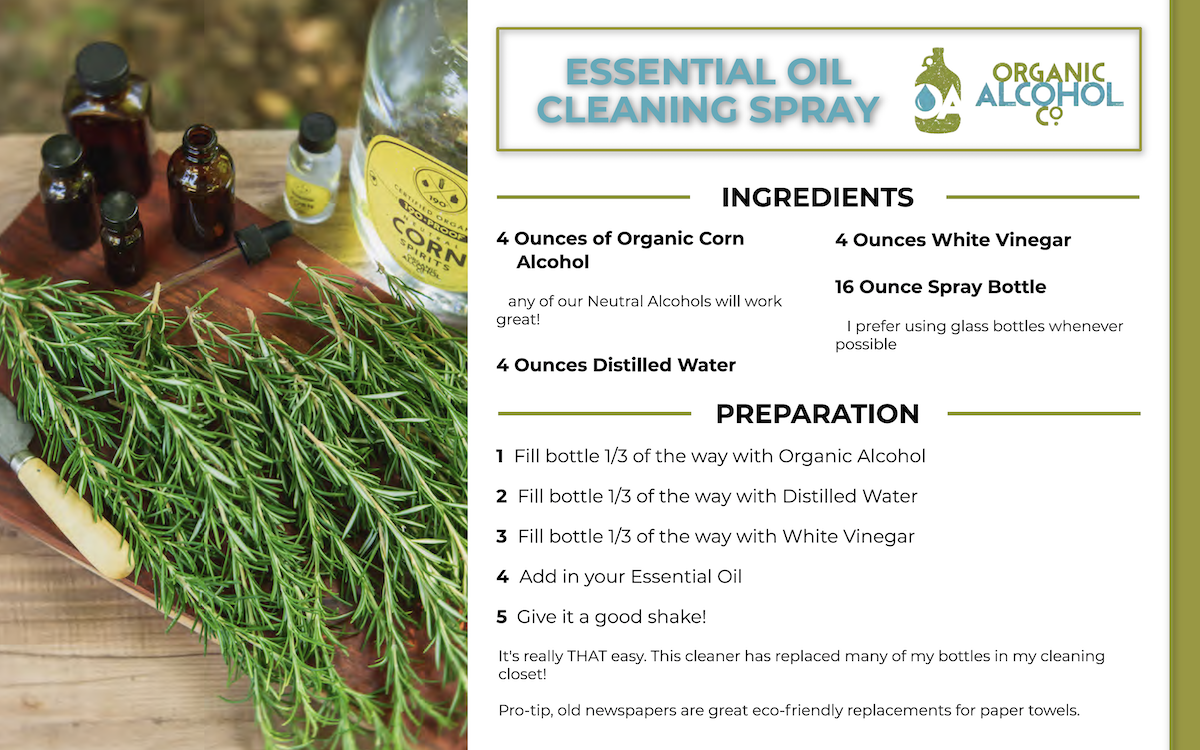 Download Recipe Card in PDF Format - Essential Oil Cleaning Spray
DIY RECIPE OF THE MONTH
Shaking out the cobwebs and organizing living spaces seems to be a priority with so much time at home. Speaking of home, our Organic Alcohols has many uses, including general household cleaning.

We have been showcasing the sanitizing properties of high-proof alcohol to help keep your home cleaner and safer. It's easy to make a general cleaning spray at a more diluted proof. This is the perfect everyday cleaning solution. I have replaced many of my surface cleaners with this mix, although be careful when using on varnishes and certain finishes (ex. woods, granite), as alcohol and certain oils can cause damage. This mixture works great to give a spotless shine to glass and other hard surfaces, and my favorite, windows (it really makes them sparkle). Time to let the light shine in!

I change up the oils I use depending on the season. Right now a home-distilled Rosemary, or classic Lemon essential oil give my space a nice fresh pick-me-up.


THIS MONTHS RECIPE: ESSENTIAL OIL CLEANING SPRAY

WHAT YOU'LL NEED
4 Ounces of Organic Corn Alcohol


Any of our Neutral Alcohols will work great!

4 Ounces Distilled Water

4 Ounces White Vinegar

Approx. 40 drops of your Essential Oil of choice

16 Ounce Spray Bottle


I prefer using glass bottles whenever possible
WHAT YOU'LL DO
Fill bottle 1/3 of the way with Organic Alcohol

Fill bottle 1/3 of the way with Distilled Water

Fill bottle 1/3 of the way with White Vinegar

Add in your Essential Oil

Give it a good shake!





It's really THAT easy. This cleaner has replaced many of my bottles in my cleaning closet! Pro-tip, old newspapers are great eco-friendly replacements for paper towels.