COCOMOJITO COCKTAIL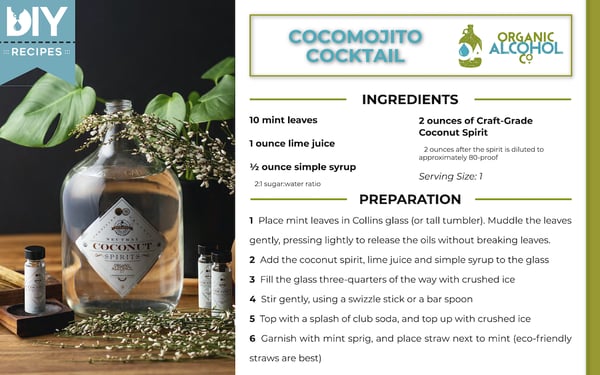 Download Recipe Card in PDF Format - Cocomojito Cocktail
Summer is fast approaching, and we have something for your next backyard gathering.

This spin on a classic cocktail is a staff favorite that is easy and refreshing, and most of all delicious.

If you are new to making your own craft cocktails at home, this is a great introduction. As always, drink responsibly, and make sure to dilute your Organic Premium Spirits first, before you imbibe!

First Step, Dilute your Booze!

Out of the bottle the spirit is 190-proof (95%), so follow the next steps to dilute to a reasonable drinking strength.
To dilute 190-proof alcohol to 80-proof the formula is: 1 part alcohol to 1.4 parts water.

It is best to dilute ahead of time so the water and alcohol can bond properly, but it is not essential.

Note that only food-grade ethyl alcohol is safe to consume, and only at a diluted strength.

Here is how you get 190-proof to a typical 80-proof or 40% beverage strength:


Open your Craft-Grade Sample bottle (Craft-Grade Samples are approx. 1.35 oz).

Pour 1 full bottle into a container to mix.

Using a liquid measuring cup (Pyrex), measure out as close to 1.8 ounces as you can of filtered or spring water. (If you want more precision, grab your measuring spoons and add 3 tablespoons + 2 teaspoons of water to the alcohol.)

Give the diluted alcohol a vigorous shake or stir before you measure out your 2-ounce pour for your cocktail.
THIS MONTHS RECIPE: COCOMOJITO COCKTAIL

WHAT YOU'LL NEED
Servings: 1
10 mint leaves

2 ounces of OAC Craft-Grade Coconut Spirit (2 ounces after the spirit is diluted to approximately 80-proof)

1 ounce lime juice

1/2 ounce simple syrup (2:1/sugar:water)

Club soda (or soda water)

Mint sprig for garnish
WHAT YOU'LL DO
Place mint leaves in Collins glass (or tall tumbler). Muddle the leaves gently, pressing lightly to release the oils without breaking leaves.




Add the coconut spirit, lime juice and simple syrup to the glass

Fill the glass three-quarters of the way with crushed ice

Stir gently, using a swizzle stick or a bar spoon

Top with a splash of club soda, and top up with crushed ice

Garnish with mint sprig, and place straw next to mint (eco-friendly straws are best)





WE ARE RUNNING A SALE ON OUR ORGANIC GRAPE ALCOHOL - THURSDAY APRIL 8TH THRU FRIDAY APRIL 30TH 2021 - SO NOW IS THE TIME TO STOCK UP!