ESSENTIAL OIL DEODORANT SPRAY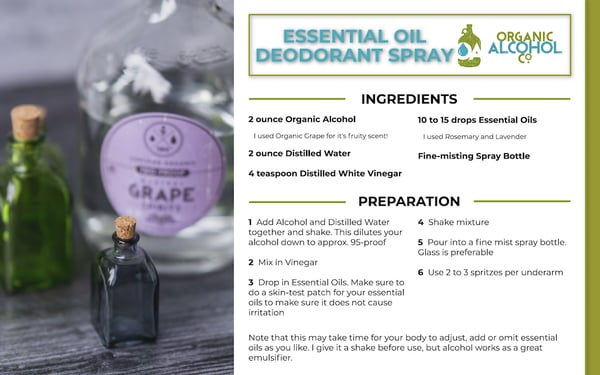 Download Recipe Card in PDF Format - Essential Oil Deodorant Spray
Deodorant, for many of us, a necessary evil. Living in a somewhat alternative area, I have seen and heard of every remedy for natural deodorants, from crystals and salts to supplements. Many of those work to varying degrees and most folks would try just about anything to stay away from some of the more traditional chemical-laden formulas you buy at the supermarkets.

This extremely easy formulation using organic alcohol is another to add to your list of remedies to try. Alcohol finely distributes the vinegar and essential oils, evaporating quickly while also using its sanitizing benefits to kill unwanted bacteria that can leave you smelling not so fresh. Is alcohol drying? It can be, and it can also be sore on any freshly shaven or sensitive skin, but in a finely sprayed mist, the effects have so far been pretty dreamy.

I diluted our Organic Grape alcohol down by approximately 50% to get the proof closer to the 95-proof mark. Alcohol can be harsh on the skin but I found this mixture is just enough to dry relatively fast and leave my underarms feeling fresh.

While many essential oils can be used, make sure you test the oil you plan to use first on a patch of delicate skin, like the inside of your wrist.

If you are intrigued by this natural alternative but don't want to make your own, our staff favorite is ready to purchase here from Distilled Bath & Body.
THIS MONTHS RECIPE: ESSENTIAL OIL DEODORANT SPRAY

WHAT YOU'LL NEED
2 ounce Organic Alcohol

I used Organic Grape for it's fruity scent!

2 ounce Distilled Water

4 teaspoon Distilled White Vinegar

10 to 15 drops Essential Oils

I used Rosemary and Lavender

Fine-misting Spray Bottle





WHAT YOU'LL DO
Add Alcohol and Distilled Water together and shake

This dilutes your alcohol down to approx. 95-proof

Mix in Vinegar

Drop in Essential Oils

Make sure to do a skin-test patch for your essential oils to make sure it does not cause irritation

Shake mixture

Pour into a fine mist spray bottle

Glass is preferable

Use 2-3 spritzes per underarm




Note that this may take time for your body to adjust, add or omit essential oils as you like. I give it a shake before use, but alcohol works as a great emulsifier.
WE ARE RUNNING A SALE ON OUR ORGANIC GRAPE ALCOHOL - THURSDAY APRIL 8TH THRU FRIDAY APRIL 30TH 2021 - SO NOW IS THE TIME TO STOCK UP!