ORGANIC CHOCOLATE EXTRACT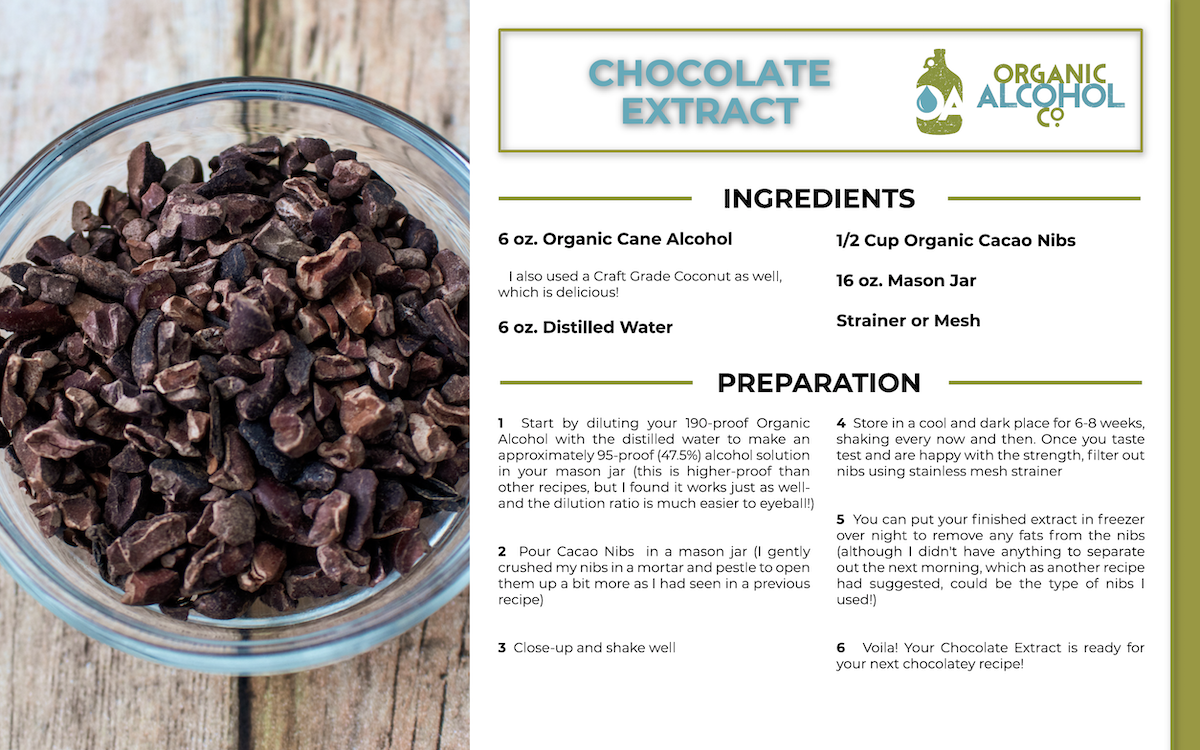 Download Recipe Card in PDF Format - Chocolate Extract
DIY RECIPE OF THE MONTH
In December we shared the oh-so-easy process of making your own homemade Organic Vanilla Extract using our Organic Alcohols for all your holiday-baking needs. As February rolls in, and the notoriously chocolate-loving day of Valentine's Day approaches, we are showing you how to make yet another culinary delight, Organic Chocolate Extract.

I was blown away at how little I have thought of using Chocolate Extract, and just how versatile it can be! By using the whole cacao nib for the extraction, you get all the chocolatey profiles. Paired with our Organic Alcohol (imagine with our Organic Craft Coconut, sigh), you can use this tasty treat in a variety of baking, cooking, and cocktail concoctions!


THIS MONTH'S RECIPE:ORGANIC CHOCOLATE EXTRACT

WHAT YOU'LL NEED
6 oz. Organic Cane Alcohol


I also used a Craft Grade Coconut as well, which is delicious!

6 oz. Distilled Water

1/2 Cup Organic Cacao Nibs

16 oz. Mason Jar

Strainer or Mesh
WHAT YOU'LL DO
Start by diluting your 190-proof Organic Alcohol with the distilled water to make an approximately 95-proof (47.5%) alcohol solution in your mason jar
(this is higher-proof than other recipes, but I found it works just as well- and the dilution ratio is much easier to eyeball!)

Pour Cacao Nibs in a mason jar (I gently crushed my nibs in a mortar and pestle to open them up a bit more as I had seen in a previous recipe)

Close-up and shake well

Store in a cool and dark place for 6-8 weeks, shaking every now and then. Once you taste test and are happy with the strength, filter out nibs using a stainless mesh strainer

You can put your finished extract in the freezer overnight to remove any fats from the nibs (although I didn't have anything to separate out the next morning, which as another recipe had suggested, could be the type of nibs I used!)

Voila! Your Chocolate Extract is ready for your next chocolatey recipe!