CRANBERRY ORANGE BITTERS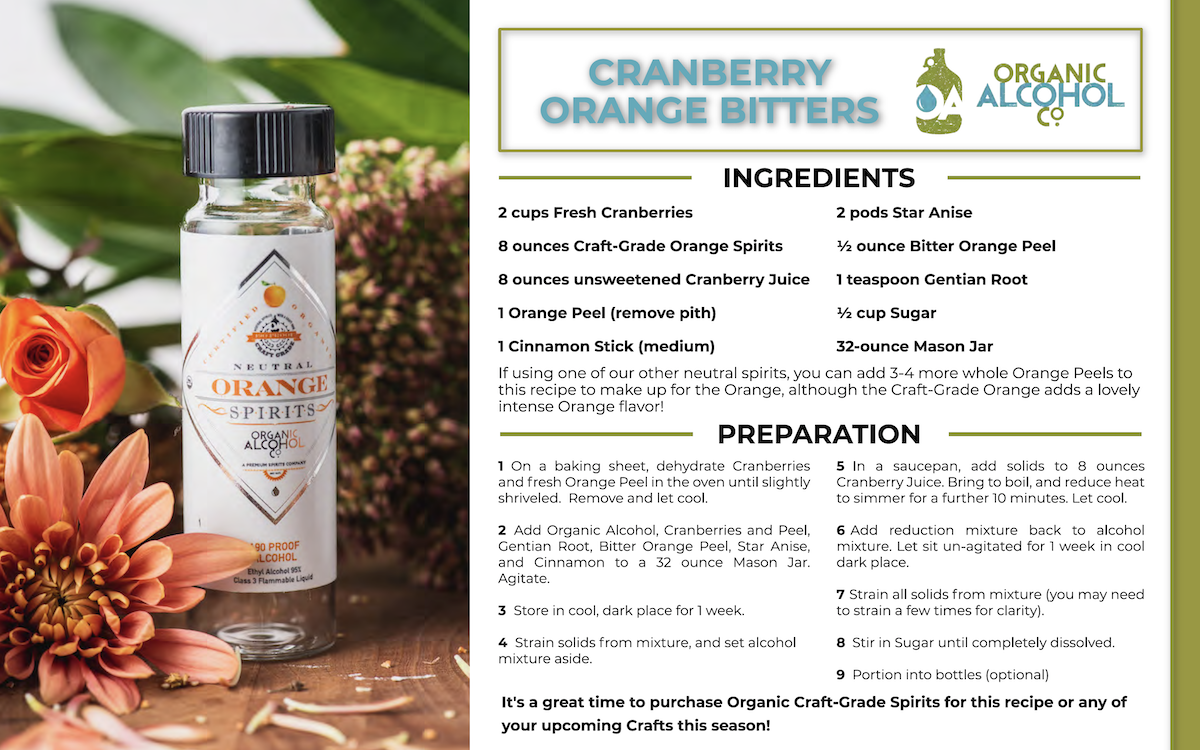 Download Recipe Card in PDF Format - Cranberry Orange Bitters
DIY RECIPE OF THE MONTH
October's recipe is extra exciting to share, not only because we are showcasing our newly available Craft-Grade Pear Spirits, but because fall flavors like Clove and Cinnamon and ripe Pear happen to be an all-time, cozy-inducing favorite. We now have our Certified Organic Craft-Grade Pear in house, and it was hard to choose what recipe to make with this fragrant, juicy, and delicious spirit.

Our Spiced Cranberry Orange Bitters is a perfect addition to give you all the Autumn feels. As the evenings get darker a little earlier, you can brighten them up with this seasonal warming spiced liquor. It's a great addition to your baking recipes or to make delicious cocktails. A favorite libation of mine is adding a dash of this flavorful liquor to a dry apple cider and poured over ice.

You can experiment with different spice blends and quantities to make it perfectly yours. As with all our boozy Do-It-Yourself (DIY) recipes, always drink responsibly.


THIS MONTHS RECIPE: CRANBERRY ORANGE BITTERS

WHAT YOU'LL NEED
2 cups fresh Cranberries

8 ounces Craft-Grade Orange Spirit Organic Alcohol

8 ounces unsweetened Cranberry Juice

1 Orange Peel (remove pith)

1 Cinnamon Stick (medium)

2 pods Star Anise

½ ounce Bitter Orange Peel

1 teaspoon Gentian Root

½ cup Sugar

32-ounce Mason Jar




If using one of our other neutral spirits, you can add 3-4 more whole Orange Peels to this recipe to make up for the Orange, although the Craft-Grade Orange adds a lovely intense Orange flavor!
WHAT YOU'LL DO
On a baking sheet, dehydrate Cranberries and fresh Orange Peel in the oven until slightly shriveled. Remove and let cool.

Add Organic Alcohol, Cranberries and Peel, Gentian Root, Bitter Orange Peel, Star Anise, and Cinnamon to a 32-ounce Mason Jar. Agitate.

Store in cool, dark place for 1 week.

Strain solids from mixture, and set alcohol mixture aside.

In a saucepan, add solids to 8 ounces Cranberry Juice. Bring to boil, and reduce heat to simmer for a further 10 minutes. Let cool.

Add reduction mixture back to alcohol mixture. Let sit un-agitated for 1 week in cool dark place.

Strain all solids from mixture (you may need to strain a few times for clarity).

Stir in Sugar until completely dissolved.

Portion into bottles (optional)


Keep your homemade Autumn Cranberry Orange Bitters sealed and refrigerated, and most importantly: Enjoy!