SUMMERTIME PEACH LIQUOR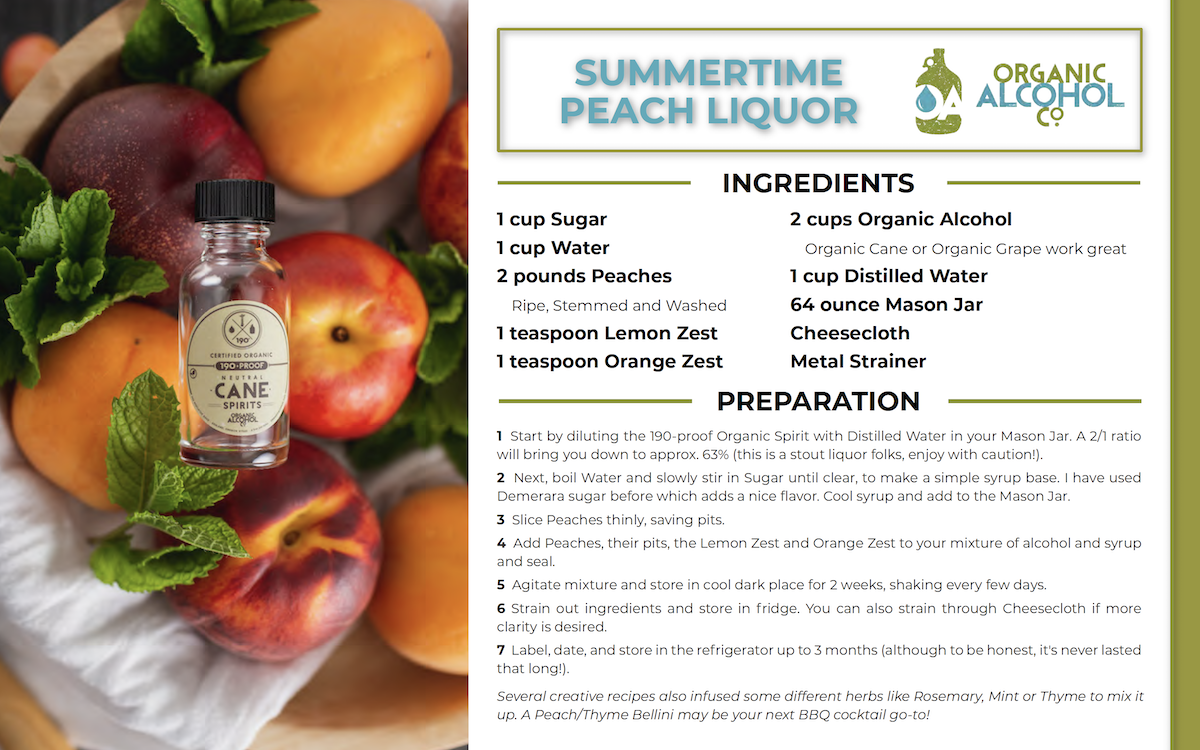 Download Recipe Card in PDF Format - Summertime Peach Liquor
DIY RECIPE OF THE MONTH
Summertime elicits thoughts of seasonal fruits ripened in the blazing sun. A classic summer favorite is fresh, juicy peaches. Luckily there are several u-pick farms around Southern Oregon where one can stock up and experience picking them fresh from the tree.

Aside from canning, baking, and eating fresh, these beauties can make a fantastic peach liquor that allows you to savor the flavor for months to come.

This recipe for Peach Liquor is a great addition to your summer traditions. I use this in Peach Bellini's and other various cocktails, and sometimes just chilled on the rocks! It's a perfect companion to a backyard BBQ, perhaps with grilled peaches on the menu.


THIS MONTHS RECIPE: SUMMERTIME PEACH LIQUOR

WHAT YOU'LL NEED
1 cup Sugar

1 cup Water

2 pounds Peaches


Ripe, Stemmed and Washed

1 teaspoon Lemon Zest

1 teaspoon Orange Zest

2 cups Organic Alcohol


Organic Cane or Organic Grape work great

1 cup Distilled Water

64 ounce Mason Jar

Cheesecloth

Metal Strainer
WHAT YOU'LL DO
Start by diluting the 190-proof Organic Spirit with Distilled Water in your Mason Jar. A 2/1 ratio will bring you down to approx. 63% (this is a stout liquor folks, enjoy with caution!).

Next, boil Water and slowly stir in Sugar until clear, to make a simple syrup base. I have used Demerara sugar before which adds a nice flavor. Cool syrup and add to the Mason Jar.

Slice Peaches thinly, saving pits.

Add Peaches, their pits, the Lemon Zest and Orange Zest to your mixture of alcohol and syrup and seal.

Agitate mixture and store in cool dark place for 2 weeks, shaking every few days.

Strain out ingredients and store in fridge. You can also strain through Cheesecloth if more clarity is desired.

Label, date, and store in the refrigerator up to 3 months (although to be honest, it's never lasted that long!).


Several creative recipes also infused some different herbs like Rosemary, Mint or Thyme to mix it up. A Peach/Thyme Bellini may be your next BBQ cocktail go-to!