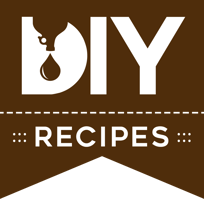 Violets are edible (and delicious) flowers commonly used in culinary applications. You may have seen them in sugar on cakes or pastries, or used to dress up a salad. The last month has provided the perfect weather for tiny purple-jeweled violets to pop up all around yards, parks, and woodland areas.
The common varieties you see are most likely Blue Violets or Viola sororia. There are also other varieties that have a more intense scent and flavor, like Sweet Violets (Viola odorata) that originally came from Asia and Europe. You may have noticed you can smell a violet, and like magic, the scent is harder to catch. Violets have a chemical called ionone that can temporarily bind to scent receptors, causing you to 'lose' the scent. Don't worry though, it will return after a few sniffs!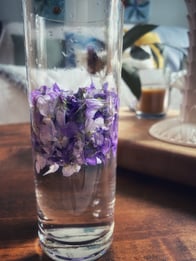 With all the violets popping up, this month's DIY is a fun liqueur recipe perfect for a little springtime cocktail. I used a variety of violets from my own garden—some common Blue Violets and a few Sweet Violets that were planted. Violets are very subtle in taste, and to pump up the flavors I added raspberries and vanilla. If you want to highlight the most violet flavor, you can omit the raspberries and vanilla, or adjust the amounts.
Note that African Violets are a different species, and NOT edible!

WHAT YOU'LL NEED

6 oz. OAC Organic Cane 190-proof Alcohol
4 oz. Distilled Water
1 cup Raw Organic Sugar
1-2 cups Violets (washed in cold water, stems removed)
1/2 cup Raspberries
1 Vanilla Pod
12 oz. Mason Jar
Cheesecloth
Bottles for storing (optional)


WHAT YOU'LL DO
Place washed violets in alcohol in a Mason jar, let soak for 5 hours
Add water, vanilla pod, and sugar into a pot and simmer until clear (making a rich simple syrup), let cool
Strain violets from alcohol
Mash or blend violets with raspberries
Combine simple syrup and alcohol, add in violet and raspberry mixture in a mason jar
Close tightly and let sit in the refrigerator overnight
Strain the mixture to remove all solids
Bottle in pourable bottles, and label


Here are some easy recipes to make:
Since our recipe has notes of vanilla and raspberry, some classic cocktails that call for Creme de Violette may not work the same, although experiment (you may find a new favorite!).
Raspberry Violet Mojito
1 1/2 oz White Rum
1/2 Pink Voilette Liqueur
3-4 Raspberries
Soda Water
Mint sprig
Lime wedge
Muddle mint leaves, raspberries, rum, and Pink Violet Liqueur. Strain into a highball glass. Fill with ice and top with Soda Water. Garnish with a lime wedge.
Want to learn more about edible flowers? Here are a few books to check out:
Wild and Beautiful by Suzanne Tabert
The Edible Flower Garden by Rosalind Creasy
The Edible Flower Garden (Edible Garden Series)
Sources: '7 Fun Facts About Violets'. Teleflora Blog. Feb 24, 2015