PUMPKIN 'SPIKED' LIQUEUR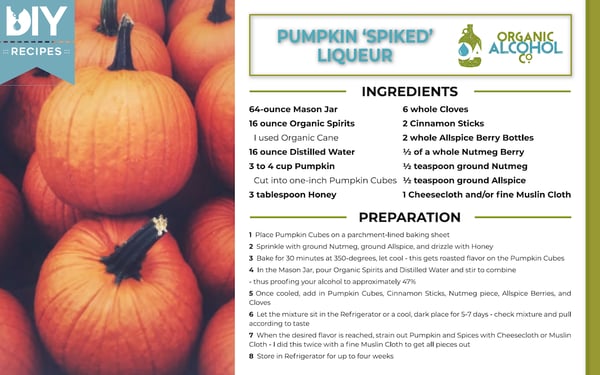 Download Recipe Card in PDF Format - Pumpkin Spiked Liqueur
Pumpkin spice season is here, and it's hard not to see it everywhere. While I am not much of a pumpkin-spice fan, this recipe is one I can get on board with.

Made with natural ingredients and Organic Spirits, this liqueur doesn't take on the sickly sweet artificial taste other pumpkin flavorings can have. Although this is a higher-proof liqueur with a little added sugar, it isn't very sweet and packs a punch in a cocktail. I have included a couple of simple cocktail recipes below for you to test out.

Baking the pumpkin for this recipe filled my home with the scents of fall. Add in a homemade Pumpkin Spiced Cocktail, and you have a cozy evening ahead. Let the Fall Season begin, enjoy!
THIS MONTHS RECIPE: LIGHT SUMMERTIME FRAGRANCE SPRAY

WHAT YOU'LL NEED
64-ounce Mason Jar

16 ounce Organic Spirits




I used organic cane

16 ounce Distilled Water

3 to 4 cup Pumpkin, cut into 1-inch cubes

3 tablespoon Honey

6 whole Cloves

2 Cinnamon Sticks

2 whole Allspice Berry

½ of a whole Nutmeg Berry

½ teaspoon ground Nutmeg

½ teaspoon ground Allspice

Cheesecloth and/or fine Muslin Cloth
WHAT YOU'LL DO
Place Pumpkin Cubes on a parchment-lined baking sheet

Sprinkle with ground Nutmeg, ground Allspice, and drizzle with Honey

Bake for 30 minutes at 350-degrees, let cool

this gets roasted flavor on the Pumpkin Cubes

In the Mason Jar, pour Organic Spirits and Distilled Water and stir to combine

Thus proofing your alcohol to approximately 47%

Once cooled, add in Pumpkin Cubes, Cinnamon Sticks, Nutmeg piece, Allspice Berries, and Cloves

Let the mixture sit in the Refrigerator or a cool, dark place for 5-7 days

Check mixture and pull according to taste

When the desired flavor is reached, strain out Pumpkin and Spices with Cheesecloth or Muslin Cloth

I did this twice with a fine Muslin Cloth to get all pieces out

Store in Refrigerator for up to four weeks
CREAMY PUMPKIN MARTINI
1½ ounce Spiked Pumpkin Spice Liqueur

1 ounce Irish Cream

White Sugar, Ground Nutmeg, and Cinnamon - Mixed for rim

¼ ounce Vanilla Simple Syrup
Using an Orange, rim your Martini Glass and dip into Sugar mixed with a sprinkle of Cinnamon and Nutmeg

Into your Shaker pour in Pumpkin Spice Liqueur, Irish Cream, and a dash of Vanilla Simple Syrup

Fill with Ice, and shake!

Pour into your rimmed Martini Glass

Garnish with a Cinnamon Stick


If you want to be real fancy!
CIDER AND SPICE
6 ounce dry Apple Cider (hard cider!)

2 ounce Ginger Beer

1 ounce spiked Pumpkin Spice Liqueur
Fill a 10-ounce Highball Glass with Ice

Pour in your Pumpkin Spice Liqueur

Pour 6 ounce - or half of a 12 ounce Bottle - of dry Apple Cider

Top with Ginger Beer